Whew. August totally wiped us out!
We moved into our new apartment at the beginning of the month, and thanks to the amazing Elders Moving Company from the Menlo Park ward (read: all of our friends!) it went pretty smoothly! We had the apartment all boxed up uniformly and organized for the guys when they arrived, so it only took 40 minutes to load up the entire apartment! Then the crew drove down from Stanford to our new home in Santa Clara and set up the perfect little assembly line from the truck, up the stairs, and into our new apartment. So beyond grateful for the help and the love! It took two days flat to unpack our apartment, thanks to my relentless insistence that we do it all as soon as possible, so we were up and functioning pretty quickly. Unfortunately we had no furniture since we came from on campus housing, so we also used the truck that same moving day to go pick up a big, cushy leather L shaped couch for the living room, which Oliver moved from the truck, up into our apartment, BY HIMSELF while I tottled around with my big belly opening doors and repositioning rugs. What a man! He later did the same thing with ANOTHER sofa sectional for the baby's room. We should be 90% decorated in the next couple weeks as the last items of art and furniture trickle in from our online shopping sprees. The baby's room is my favorite in the whole place J I had the time of my life organizing his little dresser and putting baby books up on shelves on the wall. We also decided to make the nursery a convertible guest room, so my Mom (and others!) would have something better than an air mattress to sleep on when they come to visit. We found the most perfect Ikea sectional that makes a perfect reading spot during the day and pulls out into a nice double bed in the evening to tuck into the corner. I'll have to take pictures of the apartment when everything is done!
Mozzi (and I) LOVE the new apartment and especially the space! He spent the first couple days running up and down the halls and around the living room, relishing the extra square footage and soft carpeting). Unfortunately we realized we couldn't leave the balcony open for him during the day after we came home one Friday to find that Oliver's superrrrrrrrrrrrrrr nice road bike had been stolen from our second story balcony. Eek!! Fortunately, we have renters insurance. I was initially pretty disgruntled about the theft, thinking what kind of person would go to such effort to steal something (they had to climb all the way up the outside of the building!!) and furthermore, didn't their mother teach them any better?! But then, I decided that it would be better off to wish that life gets better for whoever took Oliver's favorite thing in the whole world, because it must not be that great if this is what they have to resort to.
Anyway, August also meant my sister in law Cecily's wedding! We flew in for the quick weekend and had a great time staying with Nana and David and seeing so many friends and family! The wedding was lovely and the bride even lovelier! Cecily looked SO beautiful and happy, and we are so happy to have such a nice guy join the family! On the way back from a wedding dinner, Oliver confessed in the car that he liked Jeff, which coming from Oliver, the poster boy for a protective older brother, was a huge moment 😉 haha! We love you Cecily and Jeff! The wedding weekend  was officially my last flight before baby comes! It is a constant effort to keep my little feet and ankles and hands from getting all puffy and swollen from heat or too much walking, and airplanes sure don't help!  I was also on the super early shift at the office for half the month, so spent most days up at 5 AM and unpacking/running around/setting up until midnight. Yikes.
While the Palmer family was busying about with the wedding, Oliver was off hiding in corners and back rooms on work calls, getting the company's angel funding round to wrapped up, and we are THRILLED to report….it is done! Wires have cleared the bank and the company is officially off to the races! Super proud of Oliver and Arthur and all of their hard work, and super relieved that we will shortly have income again outside of mine…haha! We made it!! Since then, O has been a busy bee setting things up for the company, hunting down office and warehouse space, setting up HR and benefits details, filing patents, picking CPAs, etc. Lots of hats to be worn these days. I can help with the employee benefit setup luckily, since I have some background with that from the CFP®, but the rest is all this guy!  Now we can breathe for the next five months before the seed round starts calling…haha…
Other notes: we are in a new ward! So far everyone has been super kind and we've met a couple really great couples. We also survived a crazy heat wave last weekend…just barely. It hit over 110 at the worst of it, and even with our new little AC unit running full blast 24/7, I swear, we almost completely melted down. 9 months pregnant, a month of sleep deprivation, and 110 degrees? Not a good mix. Oliver saved the day by providing endless cold water, pebble ice, smoothies, and frozen blueberries. We even filled Mozzi's water bowl with ice cubes, which he snatched out and proceeded to lick all over the kitchen floor.  Hot doggy! The only good thing about the heat is that it finally gave us a good opportunity to check out or apartment pool! Handy!
All in all, I would say the overall feeling we have right now is …..we're coming out of the woods! Things are coming together, and just in time. One month from today baby boy is due! Here we go!
Xo
Rebecca and Oliver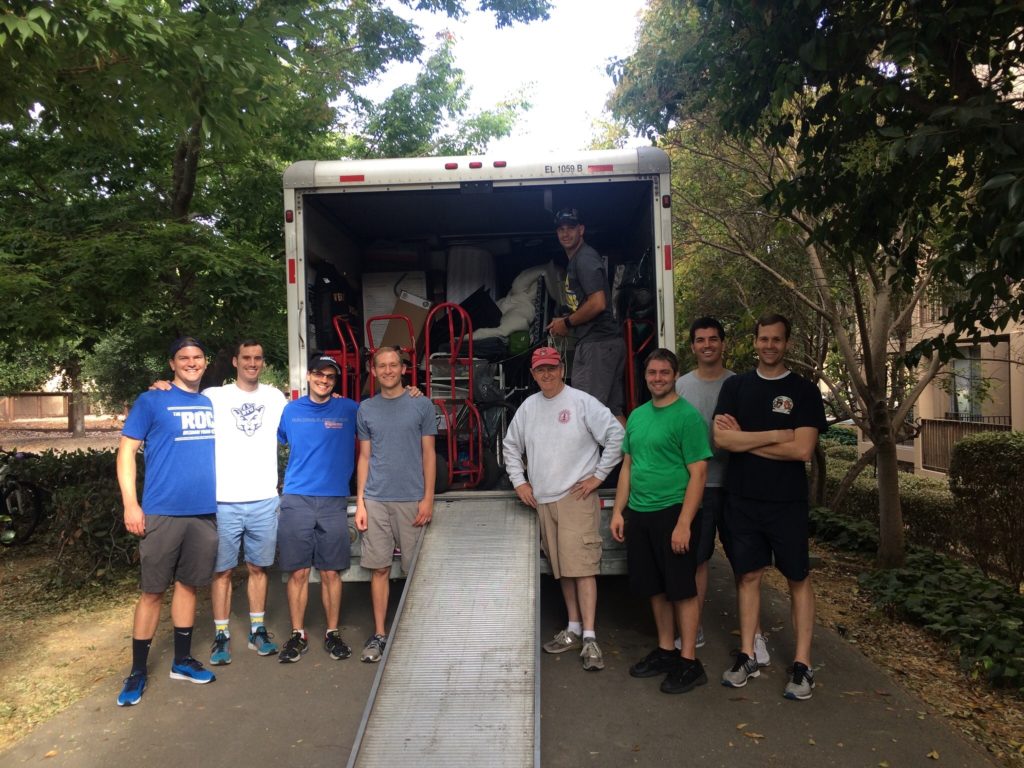 Our amazing moving crew! THANK YOU!!
Handy shoe selves built by my handy man 🙂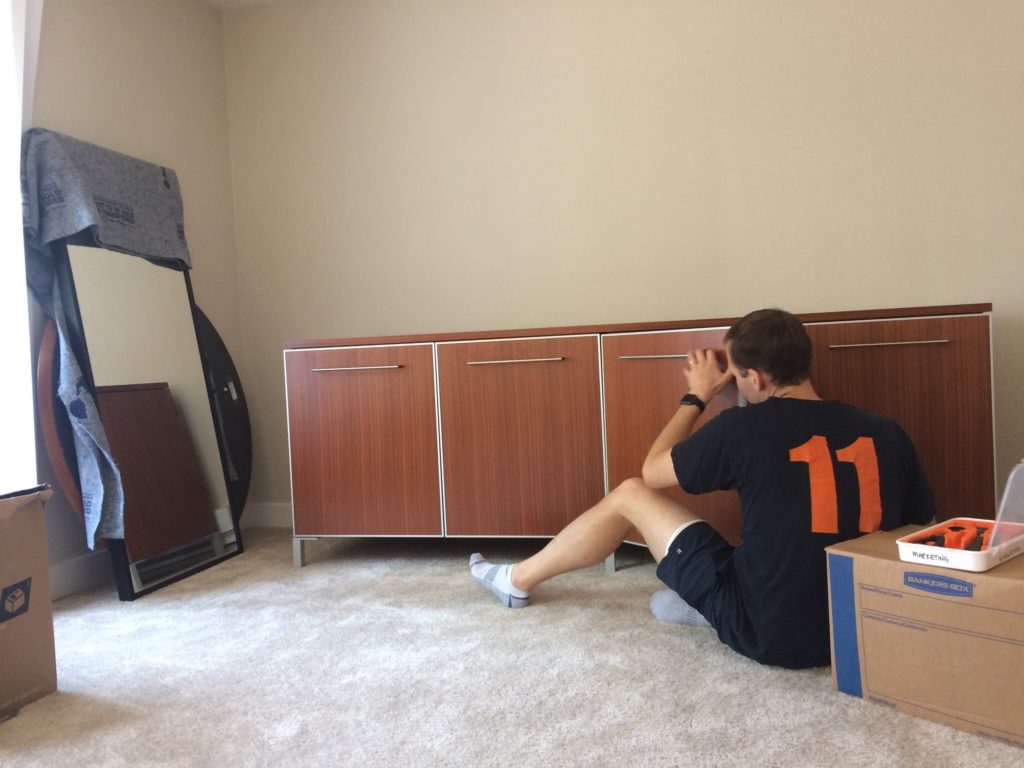 Assembling furniture!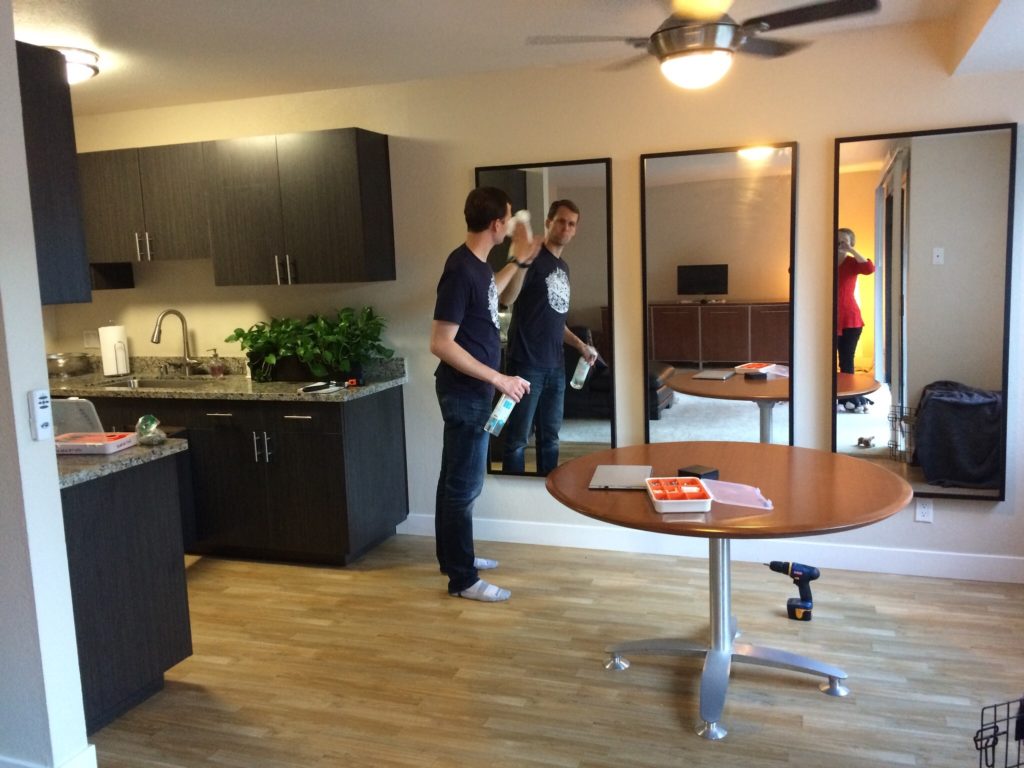 Bit by bit…unpacking!

Baby's room in progress! 🙂
The beautiful bride and groom!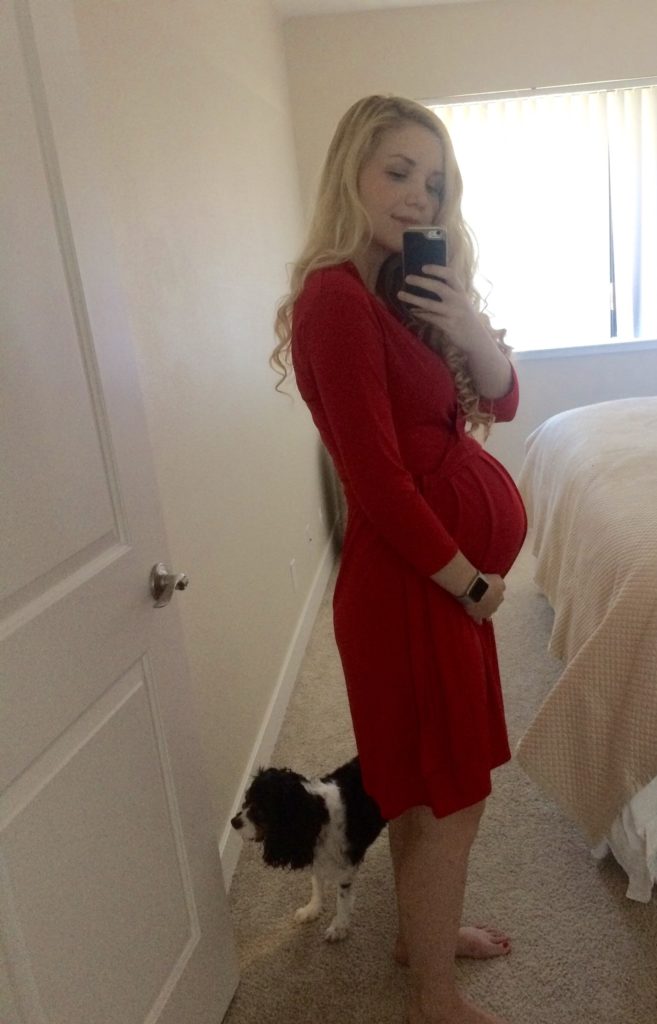 35 weeks and officially ready to deflate! haha!