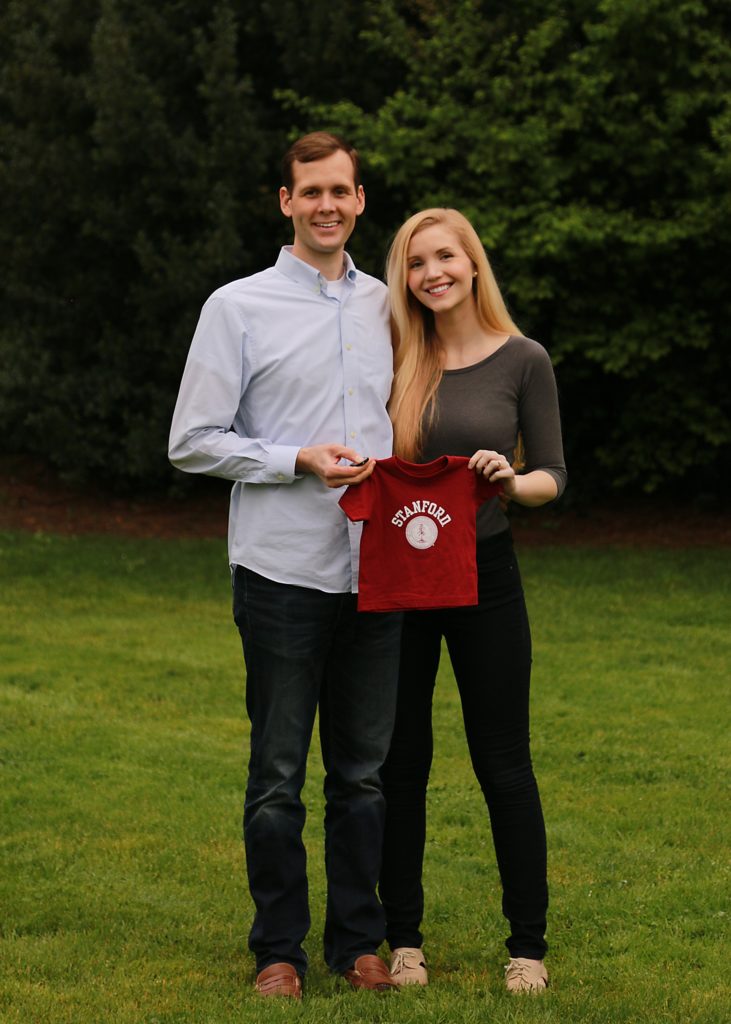 Family,
It's actually mid April as I'm writing this, so…I won't waste any time!
WE'RE HAVING A BABY!!!!!!!!!!!
It has been absolute TORTURE keeping this secret since the beginning of the year and we are so happy to have finally spilled the beans! Thank you ALL for your sweet notes and kind words…it makes us so happy to have all of you be so excited with us! With the addition of public knowledge the whole thing is starting to seem so much more real! I still don't feel or look pregnant at all (at least, what I assumed it would be like!) so having validation from friends and family and doctors is just beyond wonderful! As I write this, I am 15 weeks along (in the beginning of the second trimester) and the baby is due on October 5th! (Though the date was originally September 26th, so? We're just going to cast a couple week wide net there!) Oliver and I are beyond enthused and I, obviously, and just bursting at the seams, waiting to find out if it's a boy or a girl so I can dive head first into a mountain of giddy sewing projects!! We are already planning a Christmas baby blessing in Utah and cannot wait to snuggle this tiny mystery person growing somewhere inside of my body. Oliver feels like it's a boy….I am so overcome by the desire to sew tiny dresses that I don't think I could make a proper, unbiased guesss! hah!
Needless to say, our month (and hey, the last three months) have been pretty much consumed by that.
So, yes! We wen't to Hawaii for spring break this month, and yes! It was a secret babymoon! I added all the pictures in a separate post so as not to bombard you here. Since this summer was going to be jam packed with family reunions well into my 7 month mark, we decided that if we were going to get away for a babymoon, it was going to be now! So, off to Hawaii we went! We stayed the first night in the Westin, which was hands down fabulous…MAN nice hotels make you feel like a nice person! Strangely enough, the whole trip really had me longing to go back to Taiwan! (Was it the snuggly bliss?! Or the nice hotel?!) We lounged in their amazing pools, chilled on the beach, and slathered on the SPF 100 (no extra wrinkles for me, thank you very much!) We made sure to get some good photos together and spent plenty of hours lounging, reading, and swimming. We also rented some gear and went out exploring other beaches and doing a little snorkeling (Oliver more so than me. Frankly, the underwater ocean freaks me out.) He saw brightly colored fish and sea turtles and had a grand time. I enjoyed the fruit and the cool water and warm breeze. We also make the drive down the "road to hana" which is pretty famous, and saw some amazing overlooks, waterfalls, and black sand beaches along the way. What the tour guides don't mention is how INSANELY stressful that drive it! Totally treacherous! Windy, mountainside roads, one lane, rocks on either side. The trip took all day long and was much scarier than I had planned on signing up for on a babymoon! hah! But we arrived back in one piece and managed not to smash our car into anything, so, all is well that ends well, right?! We picked up some Hawaii carved coconut Christmas ornaments and had a fun time walking down the boardwalk and shops and exploring some of the ultra luxe resorts up north before catching he plane back home.
Other than that, March for me has mostly been work and secret baby planning 😉 Oliver continues to line up post-graduation job plans, and we continue to snuggle our cute fluffy Mozzi as much as possible (until his king-like status gets shattered later this year!) I'm keeping a separate post with baby updates "bumpdates" at http://oliverandrebecca.com/2017/04/14/weekly-bumpdate/ if anyone wants more details! I will save the rest of you from the gushing 🙂
Oh baby! Life is good 🙂
Love
O+R+Moz+baby palmer