Family,
What a month! November was one for the history books here in the Palmer household.
First of all, my endless nights and weekends shut away in a dark corner of the social universe (studying my brains out) came to an end! I PASSED THE CFP® Exam!! (Certified Financial Planner, for those of you who aren't familiar with the seven million acronyms in professional licensing…haha) And, I have to say, it feels good to be a free woman again. The seven hour test was doable in the end, though, anything is doable if you are sufficiently prepared, right? The trick is that my review class was SO hard I really had no idea if I was going to pass or fail. Luckily, the hours of studying and five dozen frantic, pleading prayers before hitting the submit button did just the trick (and thanks to everyone else out there who was thinking of me J) and I sat there in silent giddy stupor when that bright computer screen finally said "You passed! Congratulations!" I celebrated by heading straight home, tossing my books into storage, and sewing until Oliver came home later that night, cupcakes in hand and ready with an overjoyed hug. He was also quite overjoyed to finally be getting his wife back after nearly three months!
The Tuesday CFP® exam was the start of my mandatory annual two week back-to-back leave from work (I know, sounds like a dream right!?! Except you have to use up almost all of your vacation days to fulfill it. Tricked ya!) Over the next couple days of freedom, I cleaned every corner of the apartment a couple times over, made Oliver breakfast in the mornings, and ran lots of Christmas errands. It was such a treat to be able to stay home and actually see the sun during the day! My Dad arrived in San Francisco on Saturday evening and we spend the weekend taking him on little tours of campus and around town. Mozzi was happy to have company and my Dad was a good sport to sleep on an air mattress that literally took up almost the entire floor space of our apartment (obviously, speaking more to the size of the apartment, haha!) It was such a treat to have him in town!!! We enjoyed many walks and talks and even decorated the tree while listening to some Christmas music J Early Monday morning we dropped my Dad off at the airport and started the twelve hour road trip to Salt Lake City! With Mozzi in tow, a 25 hour audiobook, and plenty of apples, the time didn't seem too long at all. We were fortunate to have good weather and a nice drive and stumbled out of our bug-splashed car later that day and into a lovely fall themed sit down dinner at Nana's. We certainly had good dreams, spending the night in her plush guest room and were treated to a traditional Baxter breakfast in the morning before heading down to Mapleton to see the Palmers. The next couple days we had a blast down in Mapleton setting up for Christmas, enjoying a campfire up the valley and spending time together. Mozzi was only naughty once, when he decided to sneak out of a break in the fence and run straight onto the busy road!!! (And yes, you better bet he lost his off-leash, non-fenced privileges for life after that one.) Otherwise, he was a super traveler, snuggling up to me all along the way and only whining a little bit ;). Before we knew it we were due for another six hour drive to Idaho, where we spent Thanksgiving and Friday with my Bradshaw side of the family. Michael, Christopher, and my Dad were all there, so we made sure to snap some photos! Oliver got to meet the Bradshaw cousins and spent time getting to know Grandpa Mike and Grandma Ginny better. In addition to a delicious Thanksgiving feast, we also managed to get in some outdoor adventure when Michael took us shooting in the hills. You should have seen the looks on those giddy boys' faces, blasting the clay pigeons out of the trees! We also had a great time connecting with Natalie and Chase, who we haven't seen since we left DC! There were dozens of people and four darling poochies running around the house, and it was grand. Seeing family is so good for the soul. Taking two weeks off to reconnect was anchoring and I am so pleased that we did it! If only we could see you all more often!
Well, we made it to the end of November and are now in full swing for Christmas! The decorating and planning has commenced, and I am delighted to have my evenings back again. We are so Thankful for many things this year, but surely, family tops it all. We love you all so much!!!
Much love,
Rebecca, Oliver, and Mozzi
Pink dyed fountains in honor of the big game! Go Stanford!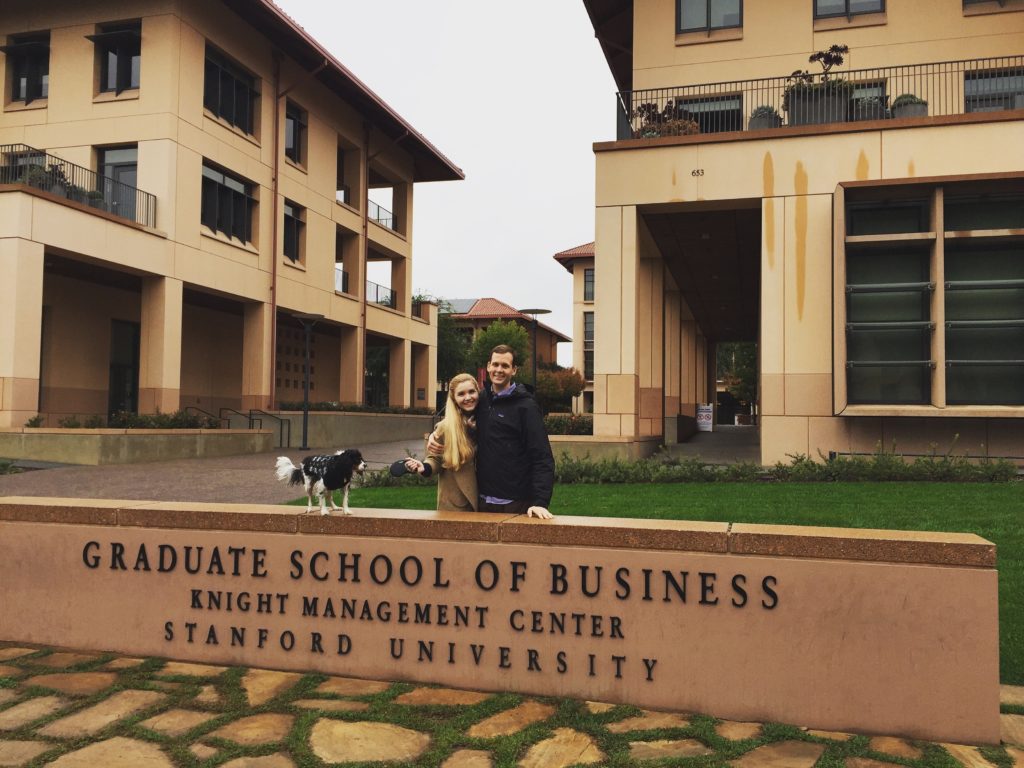 Finally snapped a photo at the GSB!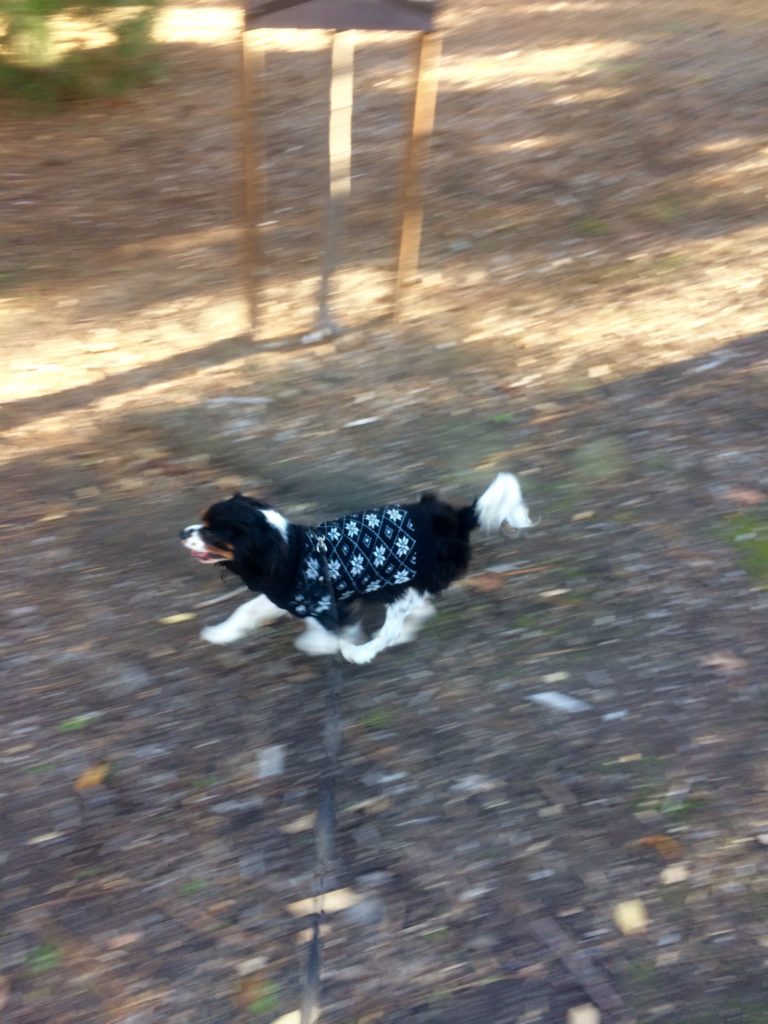 Mozzi, enjoying the pine trees and chilly air in his favorite Christmas sweater!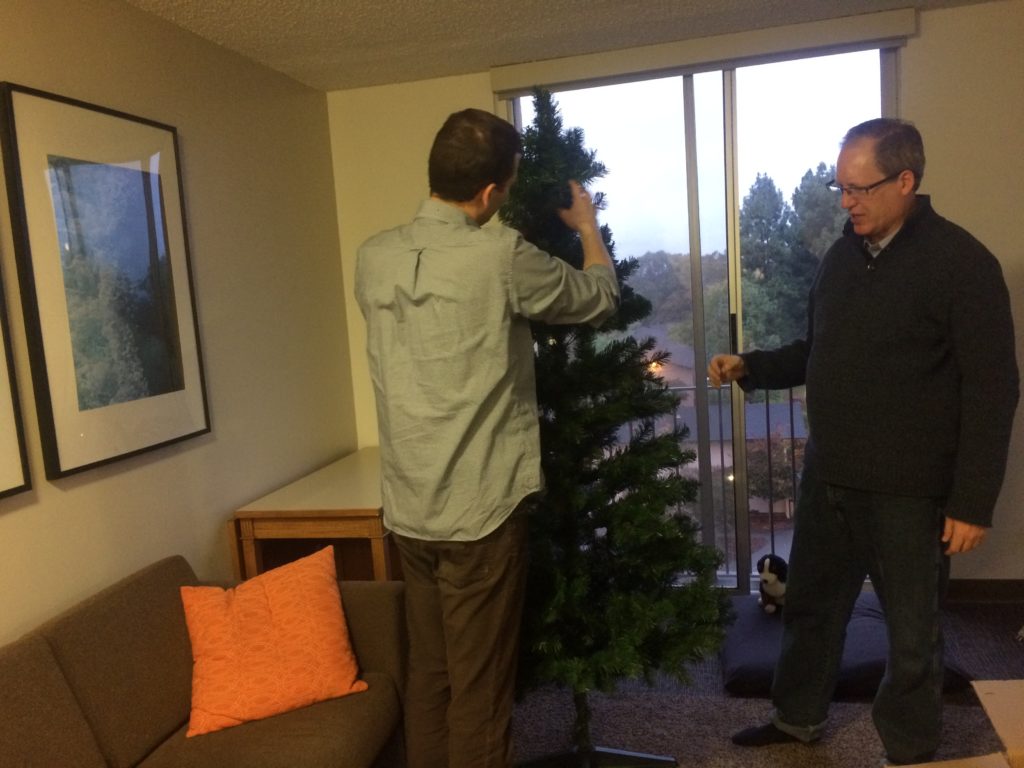 Setting up our little tree!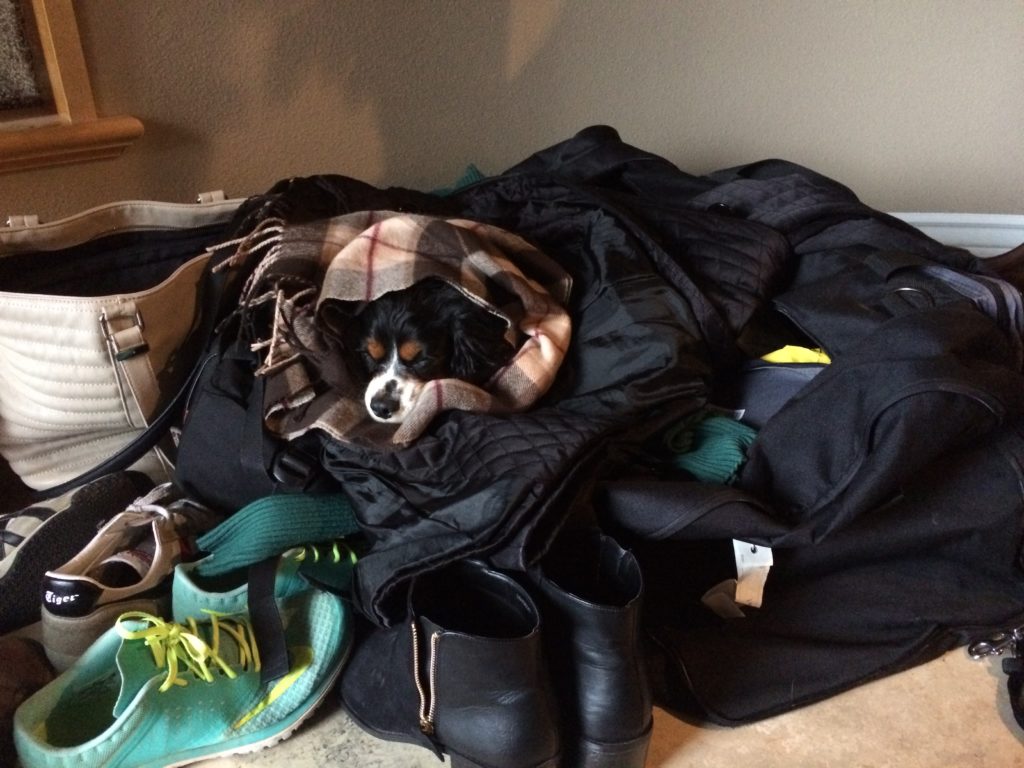 Mozzi determined never to be left by taking all of his naps inside of our suitcases. :))