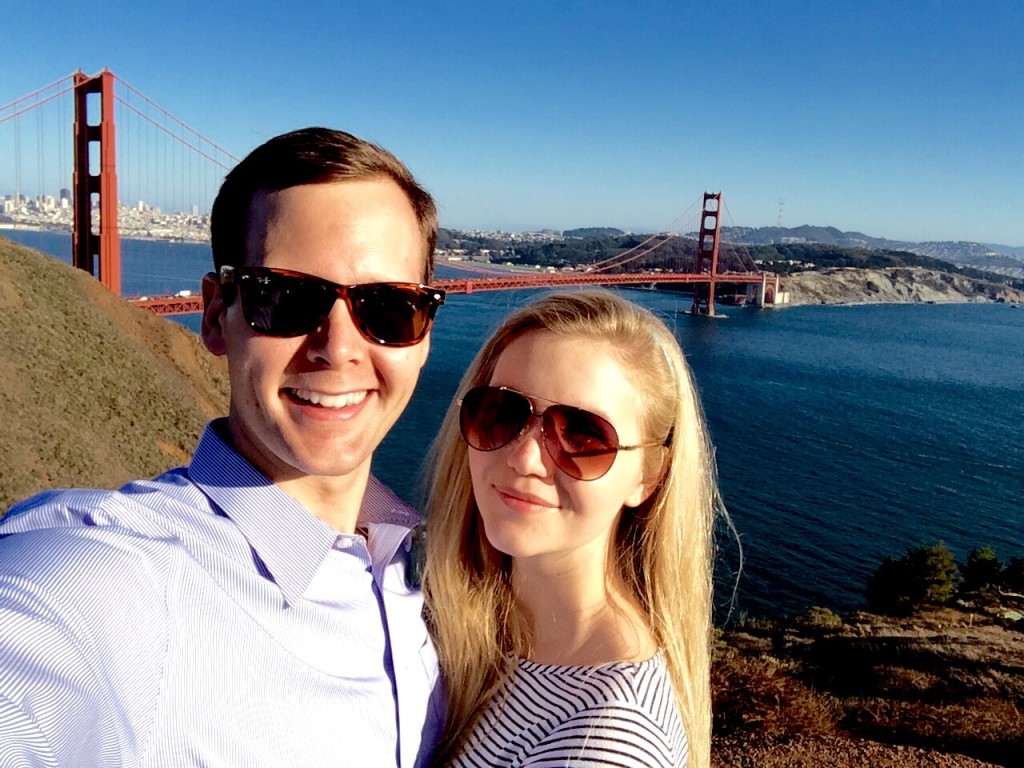 Family,
So the Palmers made the move from Switzerland to California! Leaving Switzerland, my family, and my puppy was sad 🙁 I miss them so much and am counting down the days! The long flight went quickly, and driving into Stanford from San Francisco was like living a day dream. True, the grass is brown, but the air is crisp and just warm enough and campus is so enormous it's like living in a park! Right behind our apartment are big grassy (and watered!) lawns, BBQ areas, and tennis and basketball courts. The rest of campus is only what I can describe as "Princeton meets California" — SO beautiful!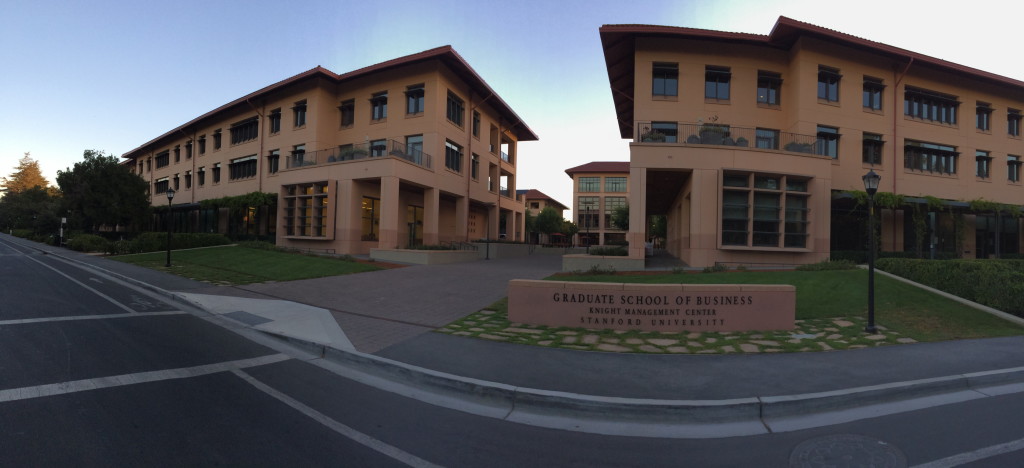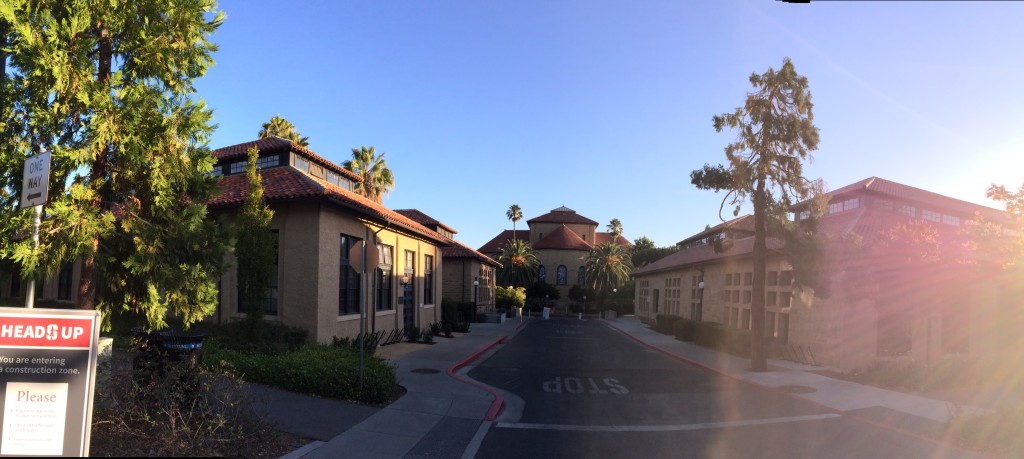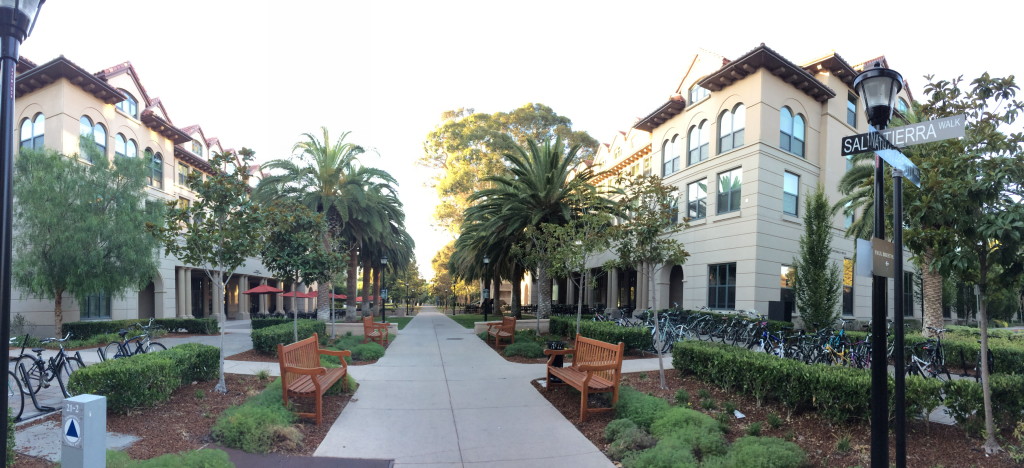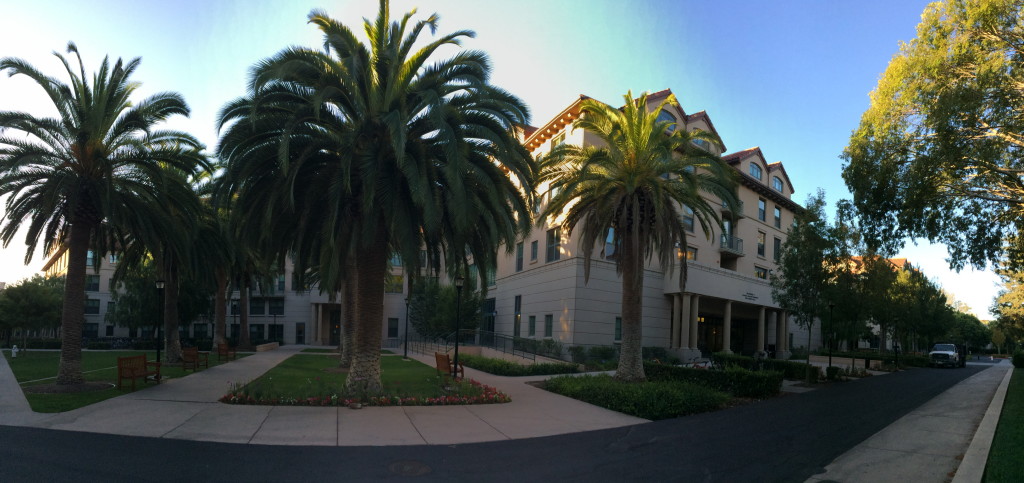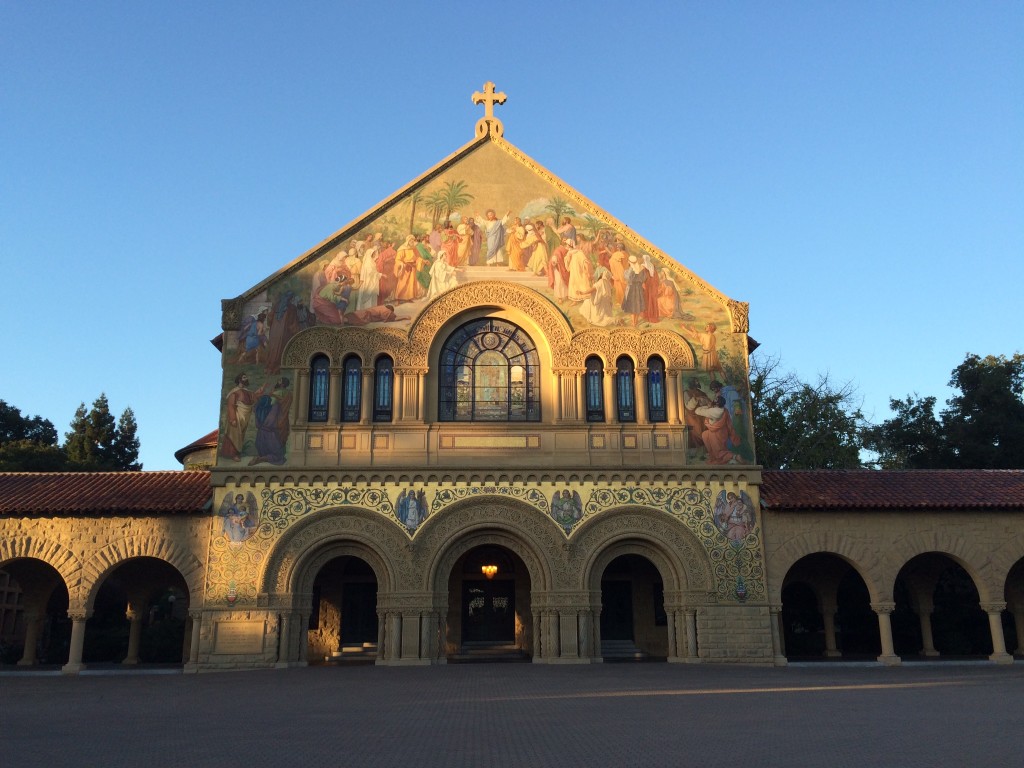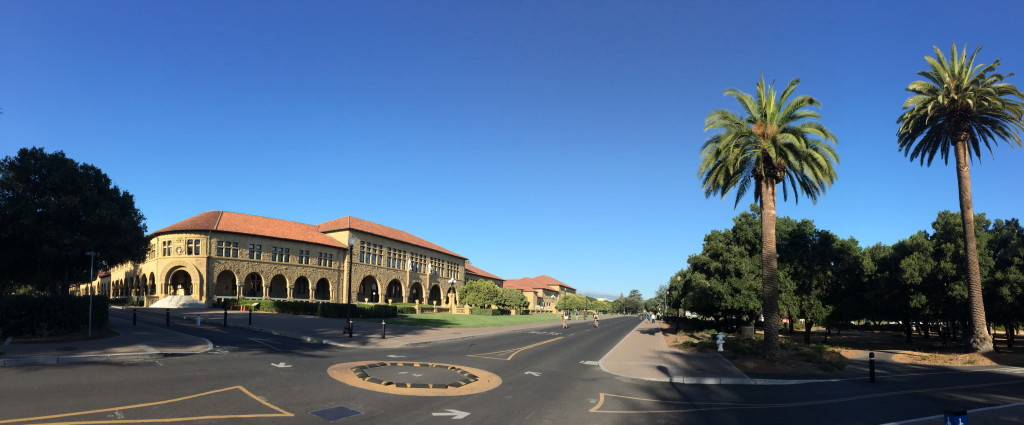 O promptly bought a bike for me, as we are still car less (and hope to stay that way for as long as possible!) and campus is so huge it would take over and hour to walk from one end to another. The bike is bright orange and I am quite fond of it.
Our apartment is small but clean and has plenty of closet space (!!). The only thing missing is my little Mozzi 🙁 I miss him terribly, but he seems to be having a ball with my family and Theo in Switzerland. I am still working out a plan for where/when we get him back. Looks like it will be my Christmas present this year.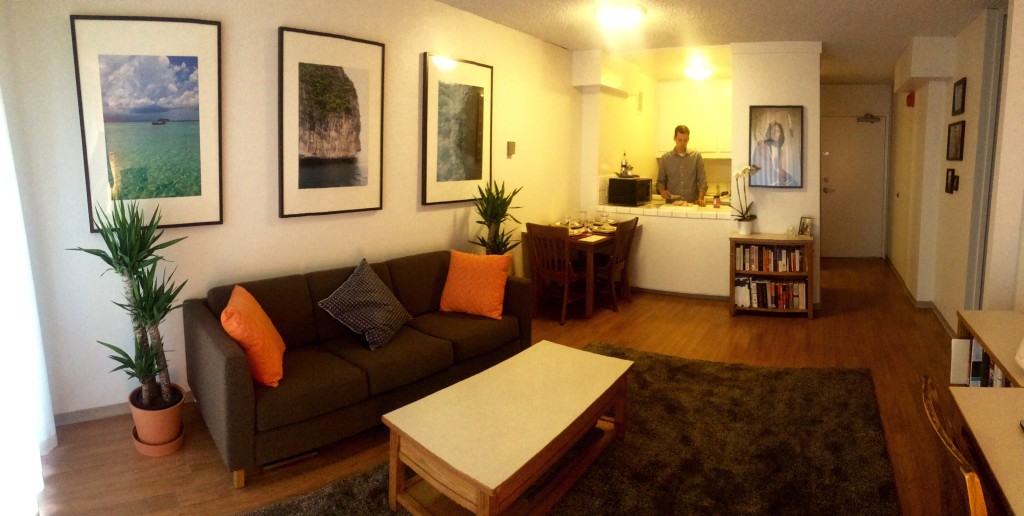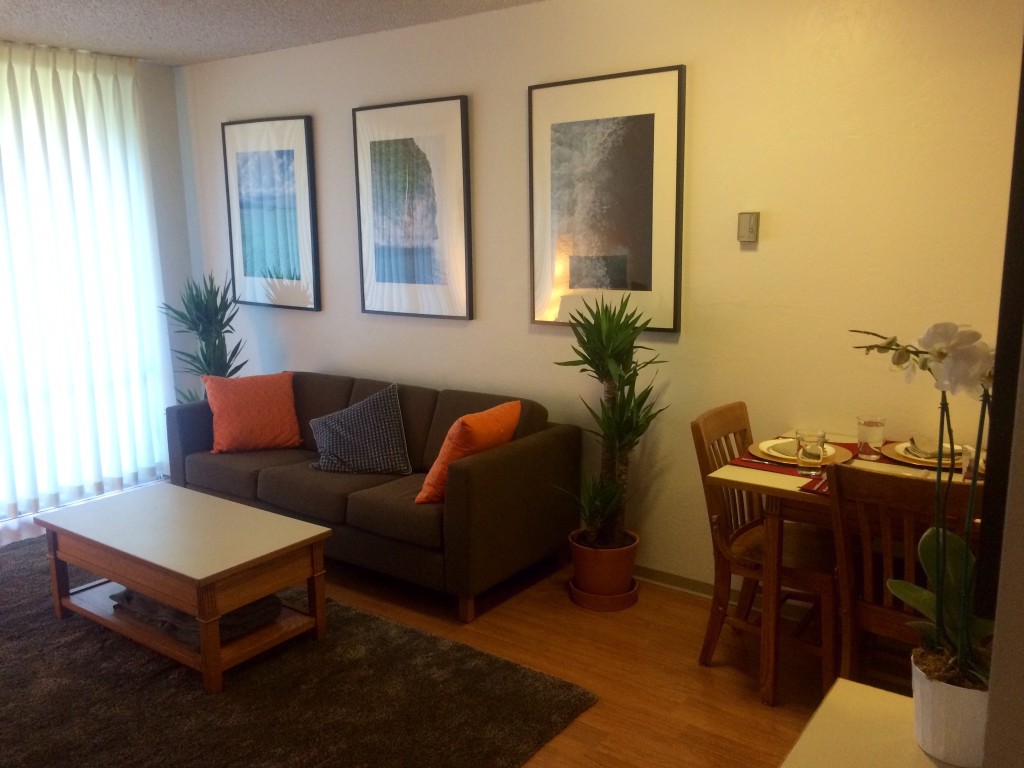 Oliver has been turning in to a business nut just like me and I am so proud!!! He has been socializing like mad (seriously, they really over-book these guys!) and making some great friends. We have already hosted and attended countless dinner parties and events. Business school is all about the network, right? We have all kinds here: from pig farmers, to early employees of Google to special ops guys, to founders of tech firms. He is enjoying his classes and starting to carve out options for the future. Maybe commercial venture capital. Maybe tech development. We'll see. As family CFO, I've got my eyes on all of the details to make sure everything happens in a way we can manage 😉 He will be heading to Brazil at the end of the year with a group of students for his (required) international study trip. Like we haven't seen other parts of the world yet! Hah! Can we opt-out? Nope. Anyway, he is looking forward to it.
I got a job! BUT, don't start until next week. So I've basically spent the last month in HEAVEN, playing in the sunny CA weather and working on my newest project (arlaispalmer.com — Christina, Deborah, Maddie, Cec, Kyleigh and Lauren have been great beta testers! Thanks again!). I also have proven to be a bit of a social orchestrater myself, having organized THEE Facebook group for spouses of GSB students of the 2017 class (which has almost 200 members now and the university called "prolific" in a public address!) and have my own team of admins that are coordinating and running events. Similarly, I started a Startup Mastermind group on campus, which has 80 members, only three of which aren't students (myself included). We're all leveraging eachothers skills, networks, and resources to make our ideas happen this year, and it's gone well so far! Anyway, back to day job! I've been hired by a multi-family office in the area that does high net worth private wealth management. Most clients are tech execs or people who made their fortunes when certain companies in the area went public (cough, cough). I'll get to do the same financial planning that I love, but with a silicon valley twist. In addition to the basics, our clients are also heavily involved in hedge and venture funds as well as a bit of private equity. It will only fuel my business bug :)This year they GSB admitted 10 LDS students, all of which are male. One single guy (Bryce — Lauren knows him! Really awesome), Oliver, and ALL EIGHT OTHERS ARE MARRIED WITH MULTIPLE CHILDREN. Meaning, yes, we are literally the only LDS couple in the business school that does not have kids. Multiple kids. Needless to say, the girls I thought I would be best friends with are great and beautiful and smart and all…except I have literally nothing to contribute to their conversations about competitive preschool applications or potty training. It is a little lonely sometimes. Which is why I have taken it upon myself to make friends on campus and talk business with the boys.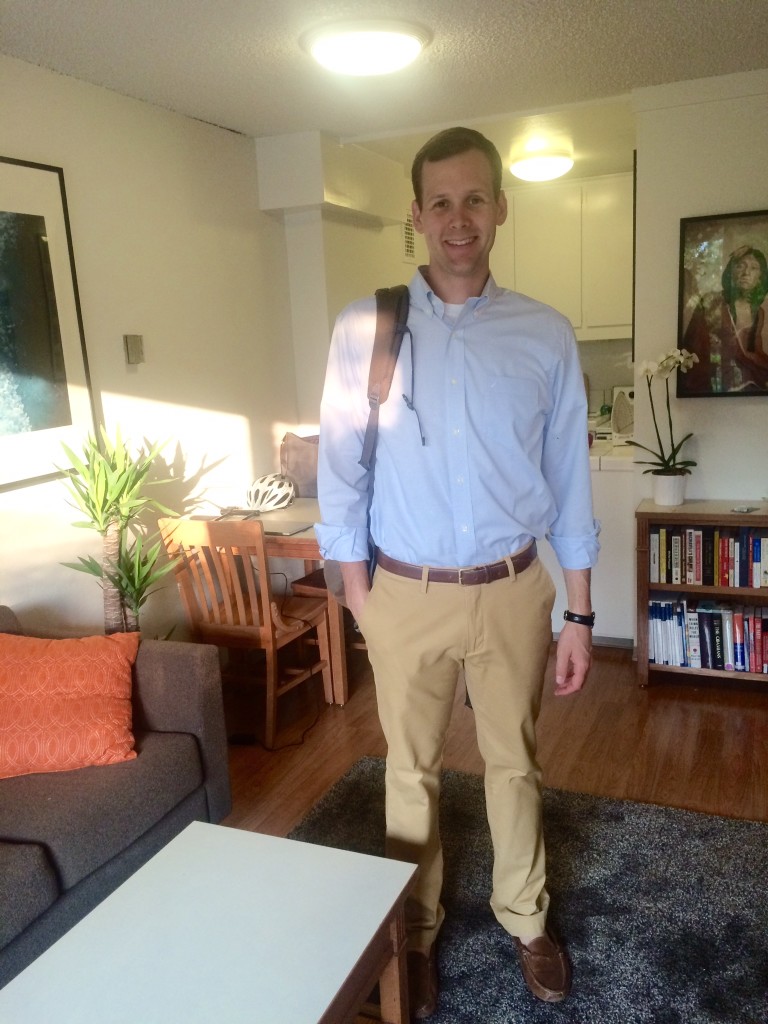 First Day of School!
My biggest goal for this month is arranging my plot to get Mozzi back in my arms!! In the meantime, my newest babies are the flowers and herbs that I planted in the balcony and the little trees we have inside. They are all still alive! I am watching them closely — sometimes the heat scorches the whole lot in a day flat! So far, they have managed to rejuvenate themselves after a little shade and water. We also have a pretty blue ceramic pot (a big one) that we plan to grow into a little portable pond on the deck with some lilies, plans, and fish…. except Oliver made the mistake of talking to the fish people at PetSmart, who are total nuts, and were so concerned about how we would treat out new fish that they wouldn't let us buy any. I warned him not to engage with the fish Nazis! ("If we plan to leave this store with fish today, DO NOT, I repeat, DO NOT engage the fish people at the petstore!" I said). Mission, failed. We'll get them somehow.
Much love
Oliver and Rebecca