Hello Family!
I am excited to soon be able to call you all family for real!  This month has been quite eventful in the broader Bradshaw family.  As most all of you know, I proposed to Rebecca.  We are excited to finally seal the deal and have her move to Washington DC and never do long-distance again.  It is amazing to think of the experiences that we have both had (her time in Paris, mission in Tahiti, finishing BYU, me working at the Pentagon), and how we both have grown together.  I cannot believe my good fortune that I get to spend the rest of my life with such a gifted, amazing, lovely, gorgeous, patient, loving, dynamic woman!!! 🙂 🙂  I have never felt so at peace and yet so enthralled.
I have known since last year that I wanted to marry Rebecca and that I could not live without her.  It took her going to Tahiti for what I had long felt to crystalize to the point that I got it.  This has ever been a story of me learning slowly and Rebecca patiently encouraging me along.  The last six months have been a busy time for both of us: Rebecca finishing BYU, my grad school applications, and a number of work trips to China, including several months of consuming planning as the lead for the Secretary of Defense's visit to China in April.  Once all of that died down, I took a deep breath and knew what I wanted to do.  After confirming my decision in the temple, a few days later I flew out to Utah to surprise Rebecca.  Needless to say, in those intervening days I couldn't stop smiling when we Skyped and Rebecca got suspicious that I was up to something.  I was.
When Rebecca and I first started dating in New Jersey, we spent a lot of time on Princeton's campus as I finished my thesis and final classes.  Princeton is covered with magnolia trees, and as we walked and talked we were surrounded by fragrant blossoms.  Those made an impression, and whenever we would see a magnolia tree we'd text the other a picture and a smile.
On the Friday before her graduation, it became clear that with my work and Rebecca's graduation plans, I needed to propose that weekend.  At 11:00am I booked my flight, scheduled a phone call with Scott, closed out some work projects, ran home and packed, and was in the air by 4:30pm.  While in Chicago I spoke with Scott and got his blessing.  During that layover my brother and I furiously called nearly 40 nurseries around Salt Lake to try and find a Magnolia tree in bloom, of the same variety Rebecca and I fell in love with at Princeton.  The layover was long enough that I took off from Chicago with a clear plan, including the name of a nursery that said they had six small magnolias in bloom.  Meanwhile, Rebecca was relentless in trying to draw out my plans, even asking me to Facetime and tell her in great detail about my weekend plans.
On Saturday morning, as I was getting ready and running to the nursery, Rebecca started texting me a storm of smiley faces, sure that her suspicions were playing out.  I arrived at the nursery to find six magnolias, none of which had blooms, and which better resembled shrubbery.  The miracle was that at that moment of frustration, I received a call back from another nursery where we'd left a message the day before, saying they had several small blooming trees.  I jumped in the car, and declined Rebecca's phone call, texting her that I was "on my way to work."  She immediately asked for a photo of me to prove it.  My selfie showed just me against a blue sky, which I thought would hide the background.  Rebecca instantly pointed out that the forecast for DC was cloudy!  The second nursery had just what I was looking for—I lugged the tree into my car, and headed for the canyons near Provo.
I was unaware of this until later, but now with photo evidence that I could be in Utah, Rebecca headed to my grandmother's home to see if she could catch me there.  As she pulled up there, I texted her that I was in fact in Utah and that she had one hour to be ready to meet me, location details would follow.  She raced home, and suspecting that her hand would be photographed, painted her nails, then paced waiting for the rendezvous point information.
I took the 70lbs tree a ways up a trailhead to a secluded side path surrounded by trees and which looked up into the mountains. With ten minutes before the hour was up, I texted her the name of the trailhead and booked it down the trail to meet her.  Some unsuspecting hikers at the trailhead parking lot got a big surprise when she arrived, and ran and leaped through the air to give me a huge hug.  As we walked up the trail, I told her my favorite and most meaningful memories together, and when I touched on Tahiti, I pulled out a hand-written letter I had meant to send her but which had been misplaced amongst some books until recently.  The letter talked about our future, and included a segment about a conversation we had been having about how people and relationships' growth is similar to a plants'.  As she finished reading that section, we turned a bend, and she saw the magnolia tree.  She loved it!!!  She ran up and started to admire and smell the blossoms.  I caught up to her, reached into one of the blossoms and pulled out a stand-in ring.  I caught her eye before I got down on one knee and asked her to marry me.
Her answer: "Yes, OF COURSE!"  🙂
Fortunately I had a camera on a tripod in the trees and caught the whole scene. We spent the rest of the day finding her the exact ring and diamond that she wanted, talking to family and friends, and basking in a joy and excitement that wouldn't let us stop smiling.
Following a wonderful weekend, we spent a fun, restful few days with the entire Bradshaw family in Moab, where we visited the arches, hiked, and enjoyed Christopher's camp cooking (ask him about the cinnamon sugar 😉 ).  Over two days of graduation festivities we were able to spend wonderful time with extended family, and I took over for Brenda in taking thousands of photos to immortalize the occasion.  It was fun to both see the culmination of Rebecca's time at BYU and the beginning of Christopher's as he gets ready to start school in the next few months.
Rebecca and I (with the great suggestions of many family members and friends), are in the process of planning the wedding, finding an apartment, and planning our life together.  I look forward to meeting you all in the course of time and getting to better know those that I've already been able to spend time with.
Love,
Oliver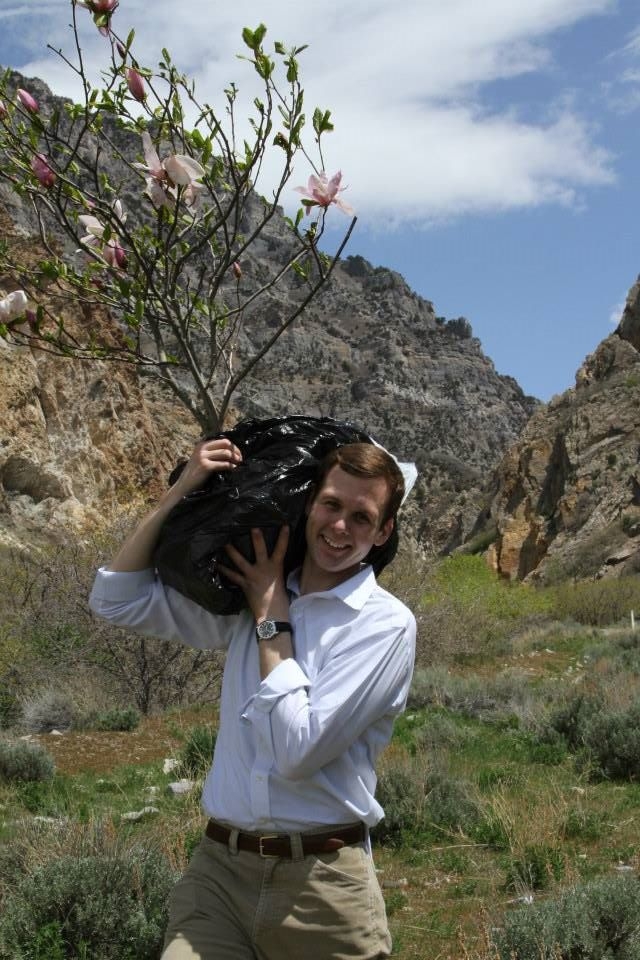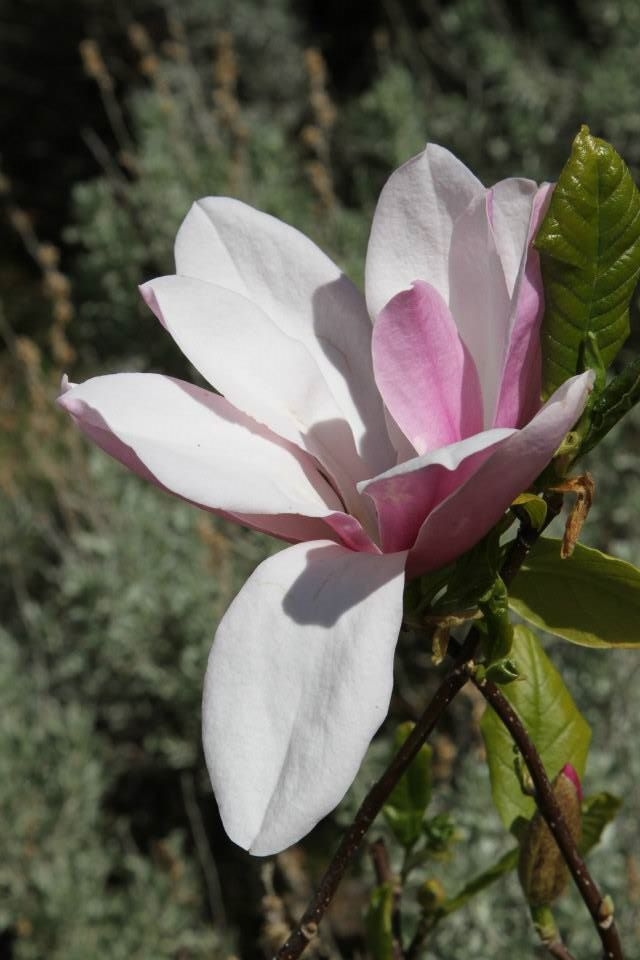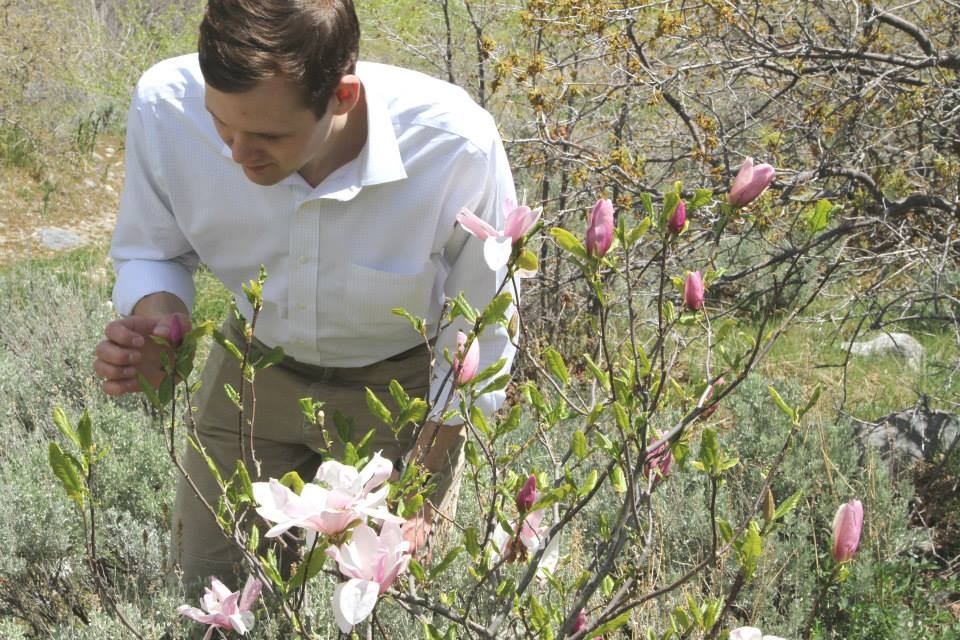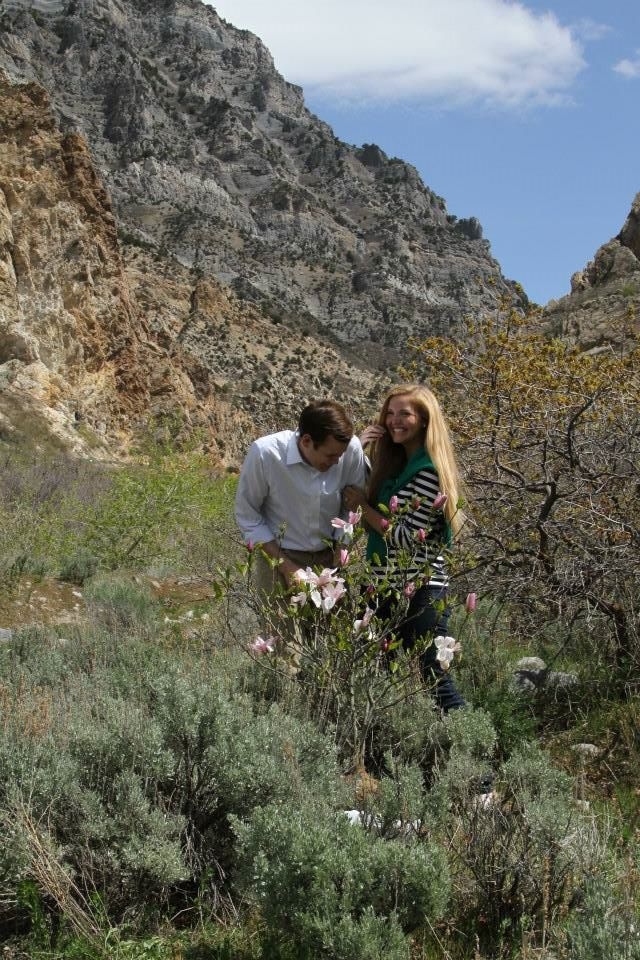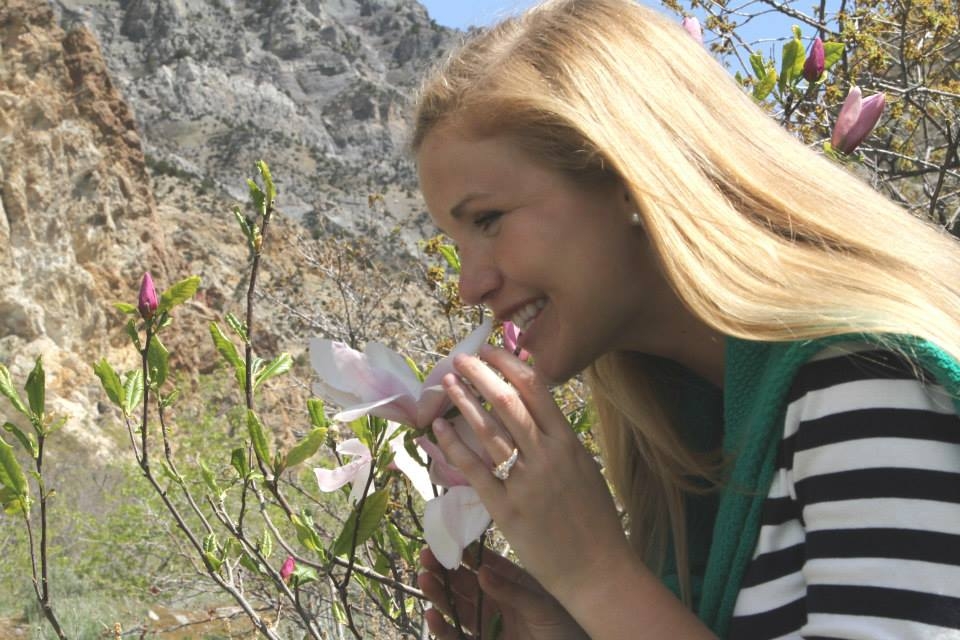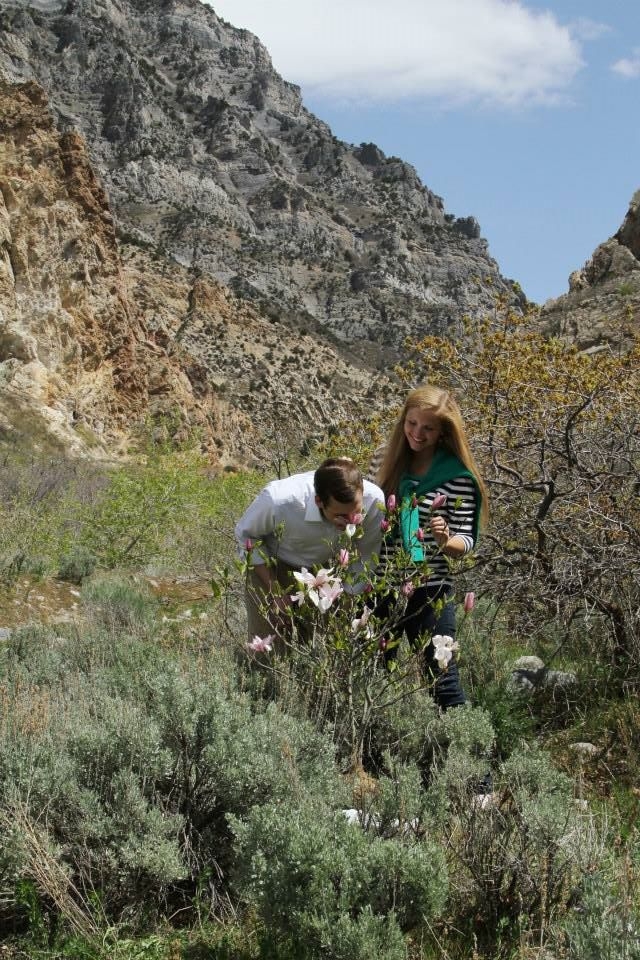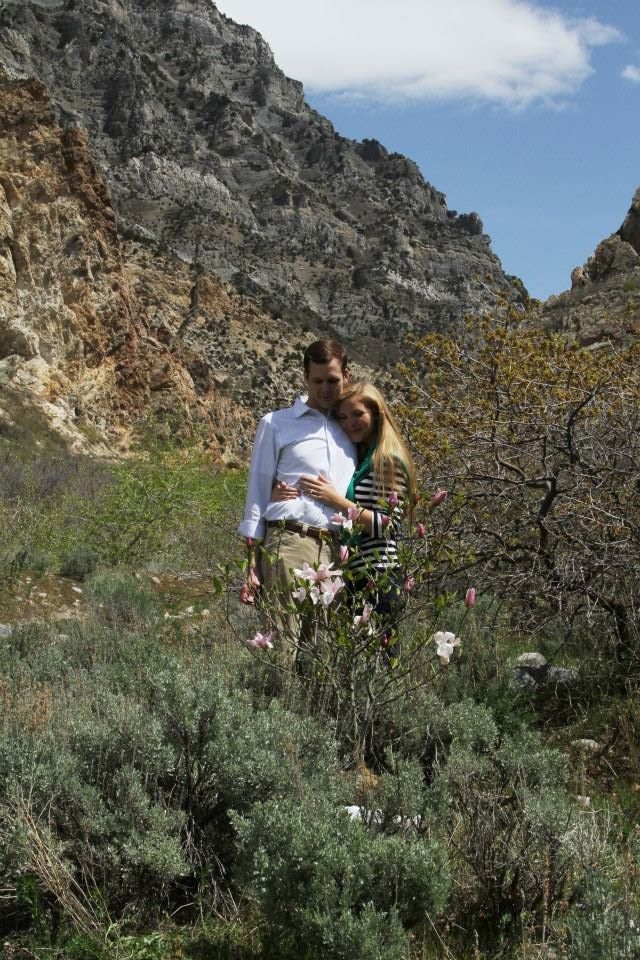 PROPOSAL, AS TOLD BY JONNY
Querida Hermana Palmer,
This has been a weekend to remember!  As you have doubtless heard already, Oliver proposed to Rebecca yesterday and she said yes!
[Knowing how much you adore Becca you're probably jumping up and down right now, pulling your compañera over to see the good news, with all sorts of Spanish ebullitions jumping from your mouth.  I'll give you a minute to regain your composure before I start to tell the story.  Bueno. ¿Lista?]
This past Tuesday night, Deborah and I were in our Mission Presidency meeting when we received a text message from Oliver: "Hey 
🙂
 How are you?"  I responded in my customary contempt for emoticons: "Alright. How are you?" "Great. Just headed back from the temple. I made a decision. 
😉
 … THE decision."  I immediately dispensed with all formality: "please please please tell me" to which Oliver just responded: "We should talk logistics."
Too eager to wait, Deborah stepped out of the room and called Oliver.  He had just left the Temple after receiving a sweet assurance that his decision to propose to Becca was the right one. Deborah says that she has never heard Oliver so happy in all the years she has known him.
Once the meeting was done I caught a bit of the post-Temple afterglow as well.  Oliver was beaming, so much so that I had to turn down the brightness on my phone because even his little profile picture on my phone began to beam and it was hurting my eyes (only kidding).  We ended up talking to him for a while, trying to think through the logistics of acting on his answer.  It would be tough, considering Oliver's unpredictable work schedule, the two incredible job offers Becca had just received from her top choices (which she needed to respond to "really soon"), her pre-graduation camping trip with her family, her graduation next weekend, and post-graduation plans to visit her grandfather in Oregon.  Over the next few days it remained uncertain whether Oliver should fly out this weekend and propose before her family arrived in town or wait several weeks until their schedules aligned again.
Then on Friday at 12:05 PM EST, true to Oliver's audacious style, he forwards us a flight itinerary and informs us: "I'm headed to Utah in a few hours! Love, Oliver."  And this was the 'two or three hours' type of "few."  Somehow he packed for a proposal, a week in Utah (I'm assuming he brought his camping gear?), and made it to the Pentagon to pick up his gym bag, while setting up a call with Becca's father during his layover in Chicago.  Yes, at this point Oliver had not even asked for permission to propose to Becca!
Oliver did speak to Becca's father and said that it was a really special conversation for him.  And fortunately for Oliver, even though Becca had made her dad promise that he would give her the code word "you should get your nails done" as soon as he knew that Oliver was going to propose so she could get prepared, he did not tell Becca what was coming.
Meanwhile, back in Cambridge, Deborah and I were springing into action (no pun intended) to find the Magnolia blooms Oliver asked us to find to use in the proposal.  As you know, both Oliver and Becca are fond of the flowers the Magnolia trees at Princeton produce every spring.  I ended up calling all five of the groundskeepers at Princeton to see if I could track down the variety.  No one responded to my messages.  So then I emailed them all and the head groundskeeper, Al, replied and told me that there were over twenty varieties of Magnolias on campus.  Thanks, Al.  Luckily he did mention that I might be thinking of Saucer Magnolias since those are all over in Princeton.
Unfortunately, as I found out after calling over 30 nurseries, they are not quite as prevalent in Utah.  I kept striking out, giving my same spiel: "Hello, do you by chance have a Saucer or Ann Magnolia in stock that is currently in bloom and preferably in a two to three gallon bucket?"  Most of the girls who answered the phone just confusedly said: "Um, let me transfer you to Frank in our tree department."
While lost in 'Magnolia Land' in my mind, I looked up and realized that I was walking under a beautiful Magnolia here at Harvard.  Thinking that I would be subtly ironic, and sure that Becca would not read too much into it, I sent her a photo of the blooms and said "Just so you know, every time I see a Magnolia I can't help but think of you and Oliver."
Boy was I wrong.  It turns out Becca is female version of Sherlock Holmes (or Sherlock Holmes is a male version of Becca– I can't decide).  Mere mortals can put two and two together and arrive at the right conclusion; Becca can put 1/200th and 1/200th together and still arrive at the right conclusion!  Oliver, already wise to Becca's gifts, later chided me for almost spoiling his surprise ("Jonny!!!! Foreshadowing is for novels!!!"). Oops.
Well, we kept calling and calling until it was closing time there in Utah at most of these nurseries.  In true desperation I left three or four messages at places that had already closed for the day, with my spiel and my number.  Then Deborah had a breakthrough and ended up finding a Saucer Magnolia in bloom!  Six of them, in fact, in a nursery close to Uncle Brett's house, where Oliver would be staying.
Delighted with ourselves, we also made them a post-proposal reservation for brunch at Communal Restaurant on University Ave and waited for Oliver to land.
Becca, too, was waiting.  Attempting to preserve the element of surprise until the last moment, earlier in the day Oliver had told Becca that he couldn't talk until late that night because he would "be at work late" and then was planning to "go see a movie with some friends" that wouldn't get out until 1 AM EST (i.e. 11 PM MST, which is when he would be landing in Utah and could call her).
When Oliver landed in Salt Lake he discovered that his luggage had been lost in Chicago and so he only had his suit bag with him and no proper clothes in which to propose.  Alas, 'ol Murphy was right that night: "anything that can go wrong, will go wrong."
Murphy was also right the next morning.  Oliver arrived at the nursery to find that there had been a misunderstanding, or fib, or lie on the part of the "we have six saucer magnolias in bloom" guy.  All they had were bare magnolia bushes that they assured us would "bloom next year!"
Then a miracle happened (which I suspect Grandma Marilyn helped orchestrate).  One of the long-shot nurseries where I had left a message the night before called in the very instant that we discovered that there were no blooms and said they actually did have some magnolias in bloom, and texted us a picture to prove it.  Oliver dashed over to the new place, picked out the most beautiful one, and headed toward the spot.
Through all of this, Becca is really closing in on Oliver.  "Want to go to breakfast?" she texted him, trying to get him to force his hand.  He tried to convince her that he was still in D.C. and even sent her a picture of himself 'on the way to work' (he was actually at the nursery in Utah…).  Becca quickly pointed out his bluff, noting that he was wearing a sweater and he never wears sweaters to work.  She insisted that if he was really on his way to work that he send her a picture of where he was at on the metro.  Oliver googled "Washington D.C. Metro" and sent her the picture he found on Wikipedia.  Becca zoomed in on the photo, noted that the time on the clock in the background was wrong and that the photo was from the Pentagon City Station, which Oliver does not use for getting to work. In a true stroke of genius, she also did a quick web search herself and found the very photo Oliver had sent her on Wikipedia. Busted.
Oliver didn't relent, insisting that he wasn't in Utah.  Incredulous, Becca took a trip to Mapleton and actually staked out in her car in front of Grandma Oliver's house!  While trying to see if there was a rental car or any other indication that Oliver was staying there, Becca said she actually made eye contact with Grandma, who came out onto her porch!
Right around this same time, Oliver finally relented and told Becca that she was right: he was indeed in Utah and she had one hour to get ready.  Becca dashed home, got ready (painting her nails, by the way, since her dad hadn't given her a head's up!) and then headed to the location of the proposal, near the trailhead of Rock Canyon.
Since I was not there, I do not know many details of the proposal, other than that they went on a walk that led to the magnolia tree.  Oliver had concealed a (temporary) ring in the petals of one of the blooms, took it out and proposed and Becca said yes!  I said temporary because they went ring shopping later in the day so that they could pick out the exact ring that Becca wanted, which is beautiful and classy.
The responses to their announcement to all of us were all sweet, but Spencer's were the best:
"GOOD JOB OLIVER!!!!!!!!!!!!!!!!!!!!!!!! Jackpot!"

"I should have asked Oliver to play the kiss the girl music [from the Little Mermaid] in the background while proposing to Becca."

"Where are the fireworks when we need them for this occasion?"

"So what are you two going to do for the rest of the day, watch Captain America 2 or prepare for Easter?"

"We need to play the Happy Day's Theme Song" (which he then sent as an audio file– super cute).
We are all overjoyed to have Becca in the family (especially James– who I think might have been confused by us telling over and over that he had a new Aunt, since he had just seen his first 'ants' while capitalizing on the good weather and crawling around in the dirt outside  for the first time!).  Seriously, though, we all admire Becca so much and feel that she is bringing so much good to our family.  I have known Oliver my entire life and have never seen him as happy around anyone, myself included, as he is around Becca.  I think if you did a word cloud of the words our family uses to describe her, the words "Beautiful" (we like to call her 'Beautiful Becca'), "Charitable," "Elegant," "Lovely," and "Great for Oliver" would be most prominent.
We love you, Cecily, and while we are sorry you're missing out on the excitement happening in real-time this week, we hope that you enjoyed reading about it here.  You are about an important work and you'll have your time for excitement and proposals soon enough.  And by the way, don't expect me or Oliver or Dad to tell you to 'paint your nails' when the time comes; we're going to collude with your fiancee too so he can sweep you off your feet.
But there's no time to think of that; back to missionary work!
Love you,
J. Palmer